"Excellently observed," answered Candide, "but let us cultivate our garden." –Voltaire, Candide
Welcome to Deepak's home on the Web.
What's Here
I have a blog that I update a few times a year. I've collected some of its posts into technical and all other categories. I have a bit of bio and contact information as well.
Recent Work
What I have been up to lately:
Most Popular
Here is the most popular content as per Google Analytics.
My Favorites
Here are some of my personal favorites:
Bio
At work, I specialize in software engineering for machine learning solutions. As a staff engineer, I tend to work on vaguely defined problems or problems with a lot of breadth or depth. My work is in collaboration with product management and research scientists with a holistic, end-to-end perspective. I have degrees in data science (MIDS, UC Berkeley, 2020) and computer science (MS, Ohio State, 2008; BE, VTU India, 2003).
I have experience with large language models, ETL pipelines, distributed data processing, architectural issues, cloud platforms, and model operations. I can work with high-level programming languages like Python as well as lower-level languages like C and (x86) assembly. During the pandemic years of 2020-21, I did pro-bono machine-learning research for sustainability with faculty at UC Berkeley.
I live in Mountain View, California, but grew up in Bangalore, India. In my free time, I tend to read. I gravitate towards psychology, philosophy, and literary drama. I also enjoy books on nature, global topics and trends, strategy, and of course, technology. You will find some of my thoughts and reviews in my blog. Luckily for me, my wife Chaitra is a bibliophile as well.
Full profile, including recommendations, available on LinkedIn.
You can follow me on Twitter.
How can I help you?
I have 20+ years of work experience in small and large tech companies: I've seen good times and bad times. I have studied, lived and worked in India and America. I straddle and have familiarity with both cultures. I am a husband and a father. I read widely and think compulsively. All this is to say that I can draw on some life experiences to help the younger generation. If you are a student or a junior engineer eager to discuss career opportunities and growth, I can help. If you are a startup (co-)founder and want to consult with me for business or technical reasons, I can help as well.
Here are some examples of questions I've been asked in Zoom calls:
My startup is growing explosively but our systems are not designed for it, can you advise?
I'm a student but unable to find a job in this market, what can I do?
Should I join a large company or a small one?
Should I stay in America or go back to India?
I'm not feeling motivated to do my job. How can I get past this?
My startup seems to be going nowhere, can you share your thoughts?
You're welcome to e-mail me on n.deepak at gmail.com if you're interested in 1-1 coaching and consulting, or even if you only want to say "Hi!".
Meta
This website has been around since 2000, although it has evolved almost continuously with technology… and me.
The opening quote is from the end of Voltaire's novel. After a lot of travelling, suffering and soul-searching, Candide finds solace in the words of a simple, old gardener.
'You must have a vast and magnificent estate,' said Candide to the Turk. 'I have only twenty acres,' replied the old man; 'I and my children cultivate them; and our labour preserves us from three great evils: weariness, vice, and want.' Candide, on his way home, reflected deeply on what the old man had said. 'This honest Turk,' he said to Pangloss and Martin, 'seems to be in a far better place than kings… I also know,' said Candide, 'that we must cultivate our garden.' [More]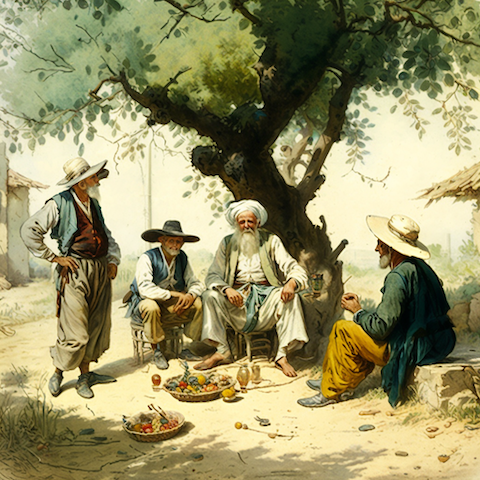 [Picture generated by Midjourney AI]